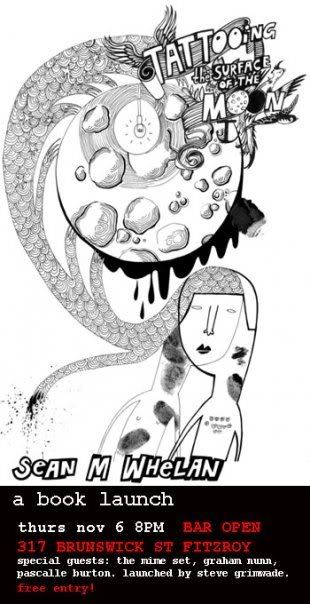 Tomorrow night (Thurs 6th Nov) I'm very proud to say I'll be launching my new collection of poetry titled 'Tattooing The Surface of the Moon'. It's published by Small Change Press. This will also be a very special (and slightly sad occasion) because this will be my very last gig in Melbourne with musical act The Mime Set. We have been collaborating since 2005 and have done many amazing and rewarding shows together. If you've never seen us perform together and have been curious then tomorrow night in Melbourne is your last chance! (Our ultra last gig together will be at the Woodford Folk Festival in QLD over New Years.)
Below is the details of the gig. Hope to see you there.
SEAN WHELAN BOOK LAUNCH
Launch of Tattooing the Surface of the Moon
A new book of poetry by
Sean M Whelan
With special guests THE MIME SET
Small Change Press is excited to launch it's final title for 2008, Tattooing the Surface of the Moon by acclaimed Melbourne spoken word artist, Sean M Whelan.
Whelan is a writer of poetry, prose, visual poetry and works for performance. His work has been widely published in the likes of Going Down Swinging & Best Australian Poems 2008. In 2007 he was a special guest of the Utan Kayu International Literary Biennale in Indonesia.
Cristin O'Keefe Aptowicz - New York City Slam Poet Champion - says:
"Haunting, provocative and lavishly surreal, Sean M. Whelan's latest collection of poetry is a glittering stand out."
Special guests: The Mime Set (last Melbourne performance ever!)
Small Change Poets: Graham Nunn & Pascalle Burton
hosted by David Stavanger
Launched by Steve Grimwade (Melbourne Writers Festival, Triple R FM)
8.30pm free entry
Thurs 6th November.
Bar Open, 317 Brunswick St, Fitzroy.